Thai National Flag Day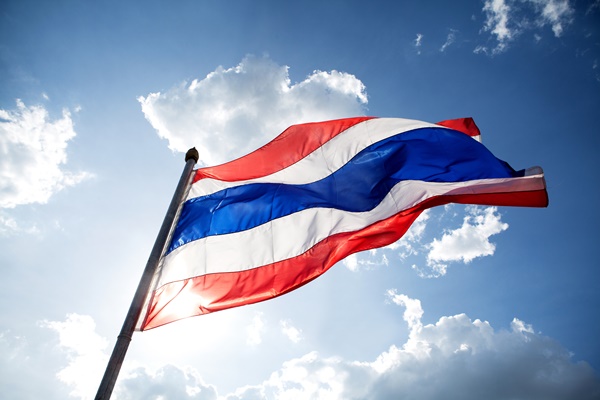 Thai National Flag Day is celebrated annually on September 28th to commemorate the day the tricolor flag was issued as the current national flag by His Majesty King Vajiravudh or King Rama VI. The tri-color flag, or thong trirong, consists of five horizontal stripes, where red represents the blood of those who protect the nation, white the purity of religious faith, and blue the monarchy of Thailand.
Evolution of the Thai Flag

The history of the Thai national flag began in the mid-1600s. During the reign of King Narai, a plain red banner was primarily used by Siamese naval vessels and in foreign trade.


Eventually, King Rama I added a white chakra symbol to the red background, representing the reestablishment of the Thai Kingdom under the Chakri dynasty. By the reign of King Rama IV, a white elephant was featured in the centre of the chakra to symbolize power and prosperity.
This was refined in 1840, when the chakra was dropped and the white elephant left facing the hoist and centered on the red background. In 1916, further embellishments were added to the elephant, including regalia and an altar, to be used by the government. The white elephant flag or tong chang puak remained the official state flag until the 20th century.
According to historical apocrypha, King Rama VI happened across the national flag hastily raised upside-down during a visit to Uthai Thani province in 1916. To prevent this mistake from reoccurring, a new flag design was commissioned the same year, with three red stripes and two white stripes.
In the next year, the middle stripe was changed to blue, both to symbolize the monarchy and to signify Thailand's solidarity with the Allied powers in World War I, which had been drawing to an end.
National Flag Day celebrations
The annual commemoration of Thai National Flag Day is marked by a flag-raising ceremony held at the King Rama VI monument at Lumpini Park. This is followed by the singing of the national and royal anthems at 8:00 a.m.
In provinces across the country, government officials, civil servants, and members of the public gather at their respective city halls to commemorate this milestone in Thai regalia. Many public venues, buildings, and houses raise the Thai national flag to commemorate His Majesty King Vajiravudh.
COVID-19 Disclaimer: The activities described here may be suspended due to movement and gathering restrictions as prescribed by COVID-19 health precautions.